MDG: Achieve universal primary education
Give children living in trash dumps a chance for education and hope for a better future.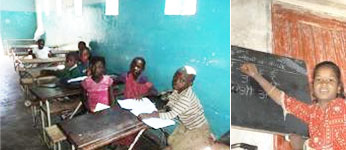 The Unforgotten enrolls child wastepickers in schools. We target children who do not attend school and instead spend their days at trash dumps, looking through the waste for food to eat and items to sell. We target children who earn about $0.50 per day. We pay for school fees, provide uniforms, school supplies, shoes and extra tutoring. We make an extra effort to enroll young girls in the program, because they are especially vulnerable.
When selecting families to sponsor, we give preference to those who are:
headed by single mothers (where the father has abandoned the family)
supported by mothers who earn less than $1 per day in wastepicking
composed of at least two primary school age girls who have never been to school, but instead are engaged in wastepicking
actually living in the dump
We hold meetings with school officials (principals, teachers, administrators) to get their buy-in with our program goals. We ask interested teachers to hold extra tutoring sessions for our sponsored children in the evenings, weekends and holidays and compensate them for their services. We meet regularly with the school officials to monitor the progress of the program and to identify areas of improvement. We pay the school fees for the children (if required) to ensure that they receive the requisite attention from school officials and teachers, and to ensure that the school has the resources to educate the children.
If the public schools are unable to accommodate the children adequately, we pay for the school fees for the children to attend private schools.

Country-wise Projects
Girls' Schooling
In Pune, India, we coordinated with Kagad Kach Patra Kashtakari Panchayat (KKPKP) to identify students who could be enrolled in our program. KKPKP is an organization of persons involved in collection and segregation of garbage and works to improve their living and working conditions of these wastepickers.
As of February 2015, The Unforgotten has succeeded in enrolling 92 girls in school. The girls are also receiving extra tutoring outside of school, enabling them to succeed. The girls have been enrolled in nearby schools - Sane Guruji Primary School and Nandadip English Medium School. All girls have stopped waste picking and are attending school regularly. UNFF field staff regularly check on the girls and visit with school officials. In 2015, we will be adding 10 more girls into the program.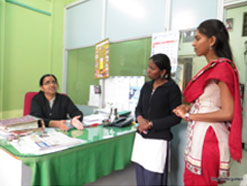 For more information about our India Chapter, please visit our India section.
In 4 years, the education program in Zambia has grown from 6 to 30 fully enrolled children. These children are supported with school tuition fees, uniforms, school supplies, extra tutoring and meals. In the first year of our program, we sent our children to the neighborhood public school, which was already overwhelmed and unable to adequately teach the enrolled children. Once they admitted the children in our program, they were even more over capacity. Consequently, in the second year of the program, we developed a partnership with a nearby private school - Mapalo Trust School - and enrolled all our children for a very affordable fee.
The children in our program are now receiving an outstanding education. Their attendance has been exemplary. They actually do want to attend school, and sincerely appreciate the opportunity to attend. We initially thought that we might have difficulty persuading them to attend and difficulty persuading the mothers to send their children to school. But nothing could be further from the truth! Every time members from our Board of Directors from the US make field visits, the mothers plead with The Unforgotten to continue supporting their children's education. And although the children desperately need extra tutoring to keep up with their more privileged peers, they are extremely motivated.
The project currently has 30 children - 17 girls and 13 boys. Overall, the UNFF-sponsored students are improving in school and on their performance reports. The children range from Grade 1 to Grade 7. Three of them will soon take their Grade 7 examinations—two girls, one boy. If they score high enough marks, then these three will go to Secondary school. Last year, two out of four UNFF-sponsored children were able to graduate to high school. The UNFF's Children Scholarship Program provides financial support in secondary school for these most outstanding students.
For more information about our Zambia Chapter, please visit our Zambia section.
Aid Trash Dump Children Project
The Aid Trash Dump Children project is designed to provide young girls living in Freetown's dumpsite communities access to primary school education. Dumpsite communities have a greater population of women and children and most of the women are without a husband or any decent form of employment for livelihood. These children suffer from educational neglect because their parents cannot provide the necessary financial resources to attend school. They become more vulnerable are exposed to physical and sexual assault in the community.
Providing a quality education for women and girls is the foundation to improving people's lives and bringing sustainable development. Many young children in the Kissy and Kingtom communities are not going to school, instead they scavenge the dump to search for items to sell or eat. More than half of the children that have not enrolled in school live in sub-Saharan Africa. From the recent census results, the Sierra Leonean population has a ratio percentage of 51% of educated masculine to 41% of educated feminine, and 37% of children in Sierra Leone are involved in child labor of which the greater percentage are children between the ages of 5 to 11 years. Women are least educated because of the financial burden parents face to live day to day, as a result, children are forced to work to support the family. Children who leave school early to enter the labor force they are more likely to end up in occupations that limit their chances of breaking out of poverty.
The Unforgotten Fund is working towards providing educational assistance to vulnerable primary school aged girls in these communities.
Our objectives are:
Providing access to quality primary education for girls and bring awareness to the mothers/guardians and girls about the importance of education
Promoting proper nutrition, sanitation, hygiene, and safe water source practices
Breaking generational poverty
Primary School Education for Girls
The Unforgotten Fund is working towards providing educational assistance to vulnerable primary school aged girls in these communities. We target single mothers that are waste pickers with daughters between the ages of 6-10 years old. We selected 15 girls from each community for our program. The girls were initially enrolled in one of the Unforgotten Bridge Schools. Majority of our sponsored girls have never attended primary school, so this was a new experience for them. The UNFF teachers taught a curriculum that would bridge the educational and social gaps, so that once enrolled in primary school they would prosper.
After one year in the bridge school, the girls that show the most academic promise will receive a scholarship to attend one of the local primary schools.
In the 2017 academic year, 7 of the girls at the Kingtom Bridge School graduated and received scholarships to attend Standard Preparatory School; and 6 of the girls at the Kissy Bridge School graduated and received scholarships to attend John F. Kennedy School.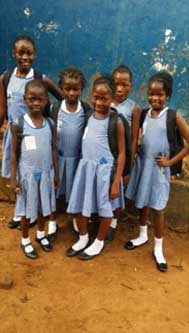 Unforgotten Bridge School Construction Program
In 2014, with help from the community, UNFF Sierra Leone built two Bridge Schools in the dumpsites of King Tom and Kissy Dockyard. The Kissy facility was built with help from volunteers from the community on land donated by the Deputy Chief Ya Bowarah Turay. The school is also used to hold community meetings. It is a place where the mothers meet to manage their SHG, and UNFF-SL staff meet with the community for meetings. We rely on volunteer help and support to complete our programs and believe that this buy-in by the community will only serve to strengthen our program in the coming years.
For more information about our Sierra Leone Chapter, please visit our Sierra Leone section.
Capital Projects
Construction of Schools in Sierra Leone
In 2014, UNFF Sierra Leone built two small school houses in the dumpsites of King Tom and Kissy Dockyard, to provide primary education to former child wastepickers. The communities were very energized, and helped with the construction. In January 2014, we brought on board two certified school teachers: Alimatu Jusu for the King Tom site and Francis Sesay for the Kissy site. We hired a local carpenter (who also lives in the bome) to build the chairs and desks, and hired two certified cooks to prepare meals for the children and their mothers. Our goal was to prepare the girls to enter primary school in the fall of 2014 (Bridge School Program). These facilities are used to tutor the children.