By Mariama Jimmy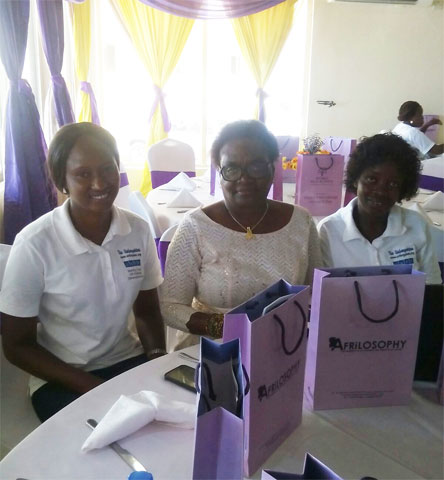 Women Mean Business is a unique and intimate annual educational and inspirational platform for young and emerging African female entrepreneurs in all business fields. As part of International Women's History Month, this event served as a way for women to impart practical skills, confidence and ambition among African female entrepreneurs and most importantly to honor women of African descent in business who continue to play their part in the global fight for economic, political and social achievements of women past, present and future. This year Women Mean Business Honors were for women who wanted to gain knowledge on how to develop their business ventures and understand the power of Brand Management in Business. This intimate event included a keynote address, panel discussion and networking sessions. The topics focused on current businesses and leadership issues for African women in business.
The theme of the conference was: "Putting your best foot forward – Developing your personal and Business Brand". Mrs. Millicent Lewis-Ojumu was the mistress of ceremony and gave an opening statement followed with introductions of the honorees. A representative from the International Finance Corporation (IFC) followed with a brief statement in which she highlighted that Sierra Leonean women are very active in business and more so than the men. She stated that many of these women face difficulties in their businesses mainly due to illiteracy. The IFC is currently trying to help women gain access to loan from financial institutions so that they can expand their businesses.
The event also honored four African Women Entrepreneurs that have excelled in their business ventures including Kumba Blessing Dugba, Randa Said Swaid, Yvonne Aki-Sawyerr and Anita Erksine. One of the honorees who spoke to the audience was Randa Said Swaid, who said that passion and relationships brought her successes. She advised that it isn't about where you come from but where you go. Her slogan was, "Dream, dream, work hard and achieve". She also added that her upbringing instilled in her a strong sense of duty and a deep love for Sierra Leone. The third honoree to inspire the audience was Yvonne Aki-Sawyerr. She added that you must work hard, persevere, sacrifice and have faith in God. She also said that you must believe in what you have and what your message is. Finally, Anita Erskine's slogan further highlighted her belief in "Think big, dream big, create local and sell international".
The keynote speaker Anita Erskine spoke on the theme "Putting your foot forward – Developing & Maintaining Brand Awareness". She said that branding is who you are, an approval of yourself. Your brand is how to attract people while being natural. A brand to her was her beauty emanating from her inner strength, which then translates into her outer elegance. She added that the world can be a very competitive place so take every small opportunity you have and always strive to do your best. Her message was one that encouraged these women to not only dream but realize their dream.
All in all, the Women Mean Business Event was a success and a great experience for us.