We share the UN's vision of promoting sustainable development in the poorest areas of this planet, as encoded in the Millennium Development Goals (MDGs).
Aid for Trash-Dump Children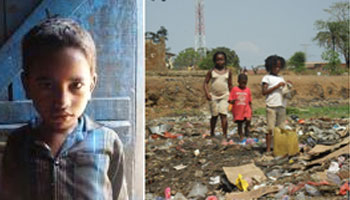 The Unforgotten Fund (UNFF), founded in 2007, provides clean food and water, shelter, schooling and a future for child wastepickers living in, or near, trash-dumps. We are currently working at the dumpsites in Lusaka (Zambia), Freetown (Sierra Leone), and Pune (India).
We provide aid for trash-dump children in the form of:
Hunger relief: We provide meals for children that were looking through trash for food to eat.
Education: We enroll children in primary school, and free them of the burden of needing to earn money by selling items found in the trash. We provide extra tutoring in bridge programs.
Water: We provide and develop clean sources of drinking water.
Independence: We provide microloans and skills training to the mothers of trash-dump children to start businesses, so that the families do not become dependent on our aid.
End Extreme Poverty. Achieve Millennium Development Goals.

We are working towards the UN Millennium Development Goals (MDGs) to:
Eradicate extreme poverty and hunger by helping those whose income is less than $1 US per day.
Increase access to safe drinking water.
Achieve universal primary education.
Promote gender equality and empower women.
We focus on projects that aid the most vulnerable – specifically, mothers and girls living in extreme poverty. Our projects have been directed towards helping wastepickers reach these MDGs.