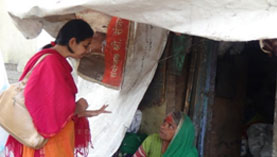 The Unforgotten Fund (UNFF), founded in 2007, provides clean food and water, shelter, schooling and a future for child wastepickers living in or near trash-dumps. At end of 2014, we had active programs at the dumpsites in Pune (India), Lusaka (Zambia) and Freetown (Sierra Leone).
Having expanded our reach to three different countries on a very small budget, our current goals are to strengthen and grow our existing programs, and our ability to manage them. To achieve these goals we have expanded our roster of active Board members and our charity staff in our field offices.
We remain committed to delivering aid at minimal overhead costs, and directing all donor funds to the field.  Our charity remains managed and governed in the U.S. by an active volunteer Board of Directors. All our staff are deployed to the field, which allows us to direct donor funds towards program services.